Adele Jergens - B-Movie Queen
Adele Jergens was considered the top show girl in New York and even worked as a Rockette! As a popular chorus, she dated guys like Franchot Tone, Burgess Meridith, Victor Mature, Bruce Cabot and Al Jolson and Tony Martin. Lucky girl! She was Gypsy Rose Lee's understudy in a Broadway show. While filling in for Gypsy, she was scouted by a Hollywood agent and the rest is history. She got an option at 20th Century Fox and appeared in a handful of flashy, ornamental walk-on parts in musicals like Hello Frisco Hello and Pin Up Girl. After Fox she was signed by Columbia, where she got her first lead in A Thousand And One Nights, opposite Cornel Wilde. It was probably her only lead in an A-picture, she was billed behind Evelyn Keyes and Phil Silvers.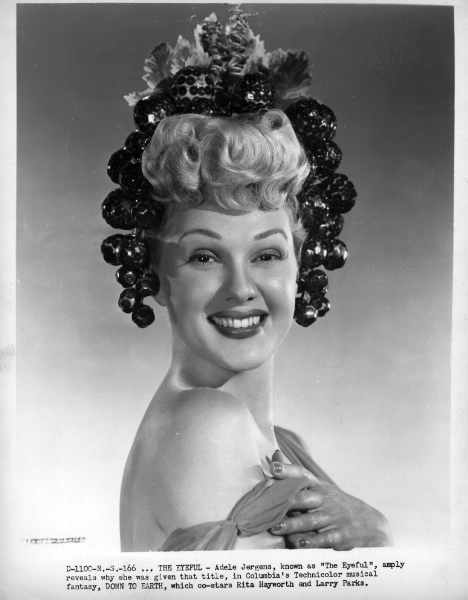 Down To Earth (1945)
Adele was showcased nicely in Tonight and Everynight - remade in 1980 as Xanadu - where she even gets to dance and sing, albeit dubbed by Kay Starr. She has the thankless job of being the showgirl that is replaced by Terpsichore, played by Rita Hayworth. So yeah, as Adele was this was Rita's show.
Promotional Ballyhoo .
THE EYEFUL - Adele Jergens, known as "The. Eyeful" amply reveals why she was given that title, in Columbia's Technicolor musical fantasy, DOWN TO EARTH, which co-starts Rita Hayworth and Larry Parks.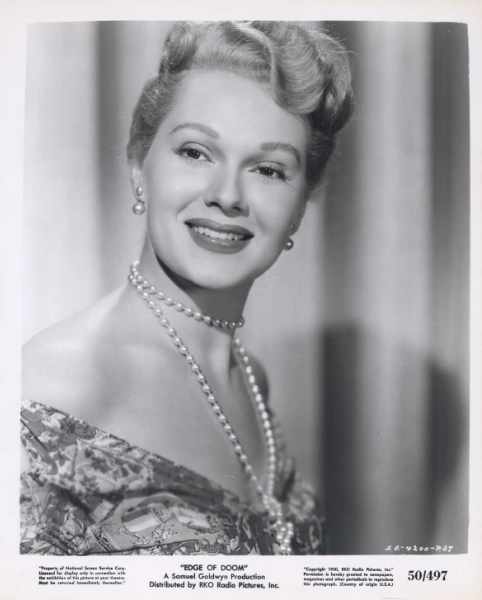 The Epitome of the Brassy Blonde
Her career in the mid-forties consisted of leads in B's and supporting roles in A's, generally as a tawdry bombshell or gangster's moll. She had a nice run in film noir, with appearances in I Love Trouble, The Dark Past, Edge of Doom and Try and Get Me. It was in the noir genre where she had her best party, in Armored Car Robbery (1950). She played Yvonne LeDoux, a "Bur-le-q queen" aka stripper and paramour of criminal David Purvis, played by future Perry Mason DA, William Talman. She ended her film career playing her usual gaudy and brazen broad in a trio of American-International films - The Day The World Ended (1956), Runaway Daughters and Girls in Prison, both in 1956. The "Girl With The Million Dollar Legs" never became a top-tier star, but she made a big impact in some of the most memorable b-movies.