A child model who became a showgirl for Billy Rose at the Diamond Horseshoe, Beverly Michaels got on at MGM and debuted as Ava Gardner's murderess in 1949's East Side, West Side. MGM wasn't the place for a tall - 5'9, some say taller - flashy man-eater but she found her place with Hugo Haas. "Pickup" and "The Girl on the Bridge" showcased her cynical, ruthless and world-weary persona along with her striking but unconventional looks. No one knew what to do with her, and she didn't appear in anything significant until 1953's Wicked Woman. An epic camp classic, it was written by her husband Richard Rousse - who also wrote noir gem D.O.A. Her Billie Nash was a textbook floozy, a calculating tramp who thought she hit the lottery when she seduced hapless Richard Egan. Alas, her obsessed and creepy flophouse neighbor Percy Helton has made alternate plans for her.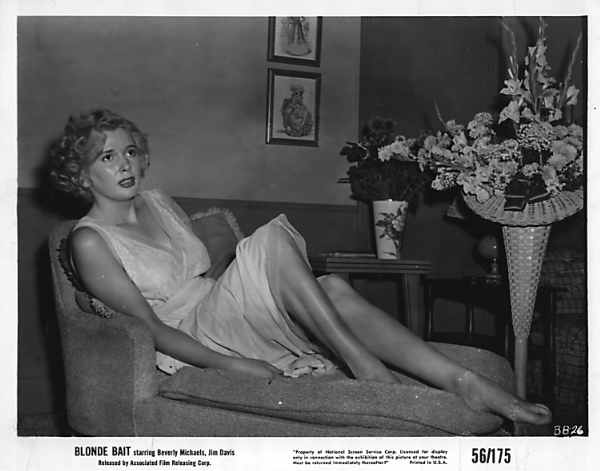 Blonde Bait
After Wicked Woman, Beverly got a sympathetic role in the minor 1955 noir Crashout, but the rest of her career was television and some grade C movies. Her last film was Blonde Bait, as "a silken trap that waits in the dark...waiting for the killer with a gun!" If only the movie was as good as its promo, with other great taglines like "DESPERATE! DANGEROUS! DEADLY! ...but too beautiful to resist." The best tagline could sum up her career, as "the kind of mistake a man can make only once!"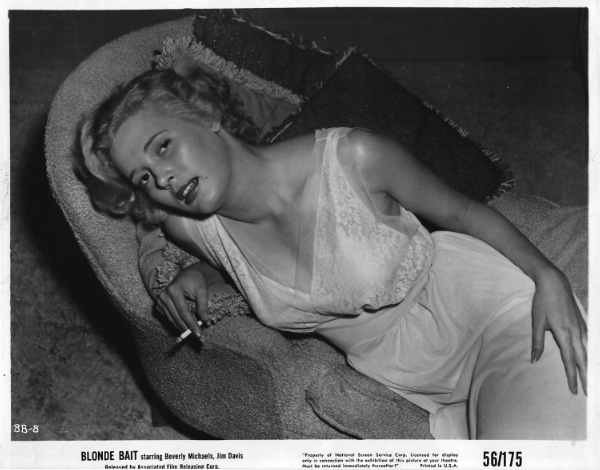 Noir Pinup Queen
Here are some promotional stills that display the deadly appeal of Beverly Michaels. She languidly reclines in a cheap slip, smoking, waiting for her tribute I suppose. Her long lissome legs scream I DON'T NEED A GUN TO GET A MAN! This movie really sold the sex aspect in its promo; sadly we don't get any scenes with her wearing the silky negligee. View Blonde Bait with a free download at Archive.org to get the low down. This is the US version of the UK flick Women Without Men, with added scenes featuring Beverly and Jim Davis.